Friday, September 1, 2017
paper crafting inspiration from acherryontop.com crafts - featuring Echo Park & My Mind's Eye
Screenname: lissahope26


First name: Melissa


My craft supply 'must have': Adhesive

What inspires me to create: ACOT challenges, Pinterest


Most readers don't know this about me: I Scrapbook on my bed. Yep, I make all my pages on my bed. I used to haul everything back and forth to the dining room table. Now, all of my scrappy supplies are within arm's reach and I don't have to run back and forth. This also forces me to clean up after Scrapping.
Bio: I was inspired to start Scrapping in 2005 while my husband was deployed. His friend was posting a log of pictures from the deployment and I felt like those needed to be documented. I quit Scrapping in 2010 because we moved to a small house and I became pregnant with my 3rd (so, I had 3 kids under 5 years old at that time). We moved to a bigger house last year so I have room to scrap now. I was out of the scrapbooking loop for years so I'm catching up on things like pastes, painting, stenciling, misting, etc.
I have been married for 12 years to my hubs, Kevin. We have three children, Jacen (11), Kylie (8) and Logan (almost 6). We recently became pet owners last July. My daughter had been begging for a dog for her birthday. I found Blue (AKA Mr. Pickles) online. He was a homeless doggie, now he's not. I have been a stay at home mom for the past 6 years. I am open to going back to work one day.
---
Project 1: Hello Fall - Echo Park's A Perfect Autumn
products used:
---
Project 2: Blessed Beyond Measure - Echo Park's A Perfect Autumn
---
Project 3: Halloween 2017 - Echo Park's Halloween Town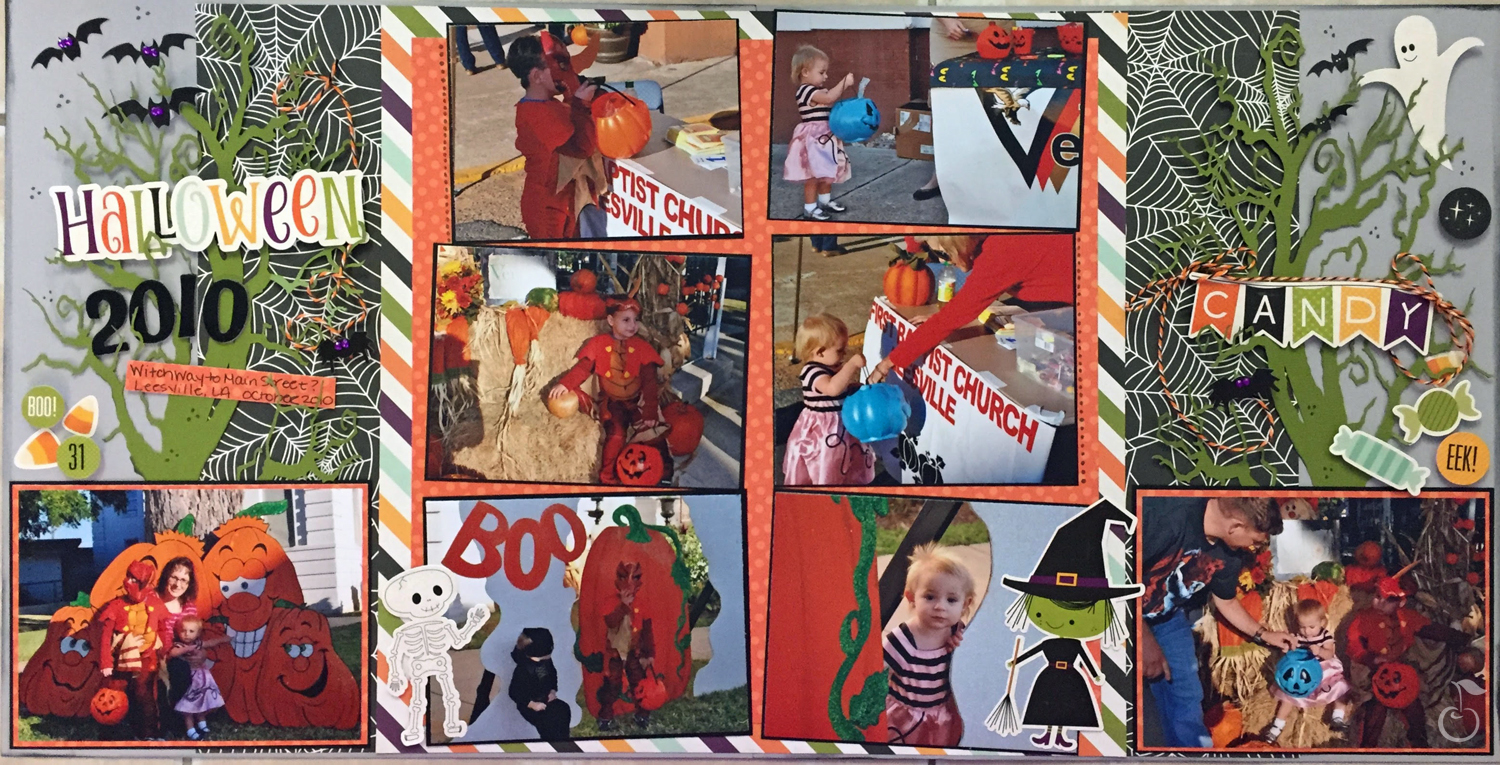 products used:
---
Project 4: Spooky Painters - Echo Park's Halloween Town
---
Project 5: I Believe - My Mind's Eye Oh What Fun
products used:
---
All of us here at A Cherry On Top Crafts would like to welcome Melissa as this month's Guest Designer! Please be sure to visit her gallery to see even more examples of her past work and plan on participating in all of her Guest Designer Challenges on our Message Board! One participant will receive a $5 Gift Certificate to A Cherry On Top Crafts!
---