---
Scrapbook Layouts Gallery: The Town park
by
JanetM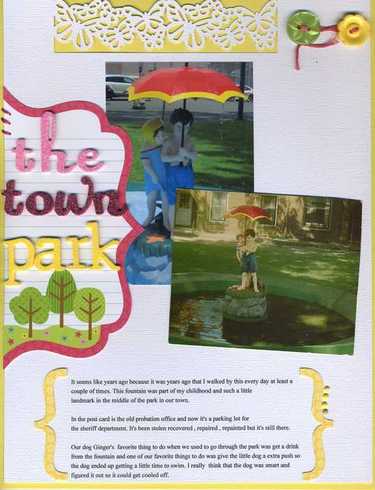 Large View
---
---
The Town park

posted Nov 23, 2010


by JanetM

View My Gallery (343)
View My Product Reviews
View My Posts (1631)
View My Bio




I've been wanting to get his picture scrapped for ages so thanks ACOT for the perfect Doddlebug papers to work with for it. Journaling is: It seems like years ago because it was years ago that I walked by this every day at least a couple of times. This fountain was part of my childhood and such a little
landmark in the middle of the park in our town.

In the post card is the old probation office and now it's a parking lot for
the sheriff department. It's been stolen recovered , repaired , repainted but it's still there.

Our dog Ginger's favorite thing to do when we used to go through the park was get a drink from the fountain and one of our favorite things to do was give the little dog a extra push so the dog ended up getting a little time to swim. I really think that the dog was smart and figured it out so it could get cooled off.
Products Used
This submission used products from ...
Doodlebug