Tide Pool Shadow Ink Pad - Hero Arts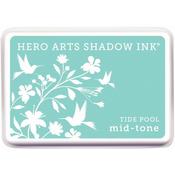 4" x 2-3/4" x 3/4"
item #:

92-70712
Reviews
---
This item may take an extra 7 days to ship
HERO ARTS-Shadow Ink. These dye inkpads are the best quick-dry choice for stamping on glossy or coated papers. They are also great on regular paper surfaces and are perfect for easy stamping on scrapbooks; paper arts; and many crafting projects. The dye is acid free; archival; fade resistant; and permanent. It dries quickly on most papers but can also be heat set for faster drying on some surfaces. The inkpad features a raised bed for inking stamps of any size and overall measurements are 4x2-3/4x3/4 inches. This package contains one inkpad. Available in a variety of colors (each sold separately). Conforms to ASTM D-4236 and EN-71. Made in USA.
Add your own review
Review by

L H.,

Verified Purchase

on 2016-04-03
Super cool!
Review by

DeAnna Y.,

Verified Purchase

on 2013-11-11
This is my favorite of all the colors...just love the shadow inks :)
Location: --

Size: 4" x 2-3/4" x 3/4"
UPC: 029477707120