Patriotic Parade Essentials Pack - Doodlebug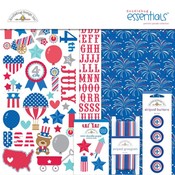 12"x12"
item #:

133-04311
---
Papers and buttons and Braddies, oh my! Introducing Doodlebug Essentials, a positively perfect assortment of all your favorite Doodlebug collections. This Essentials pack is a great way to offer Doodlebug's craft collections with an assortment of papers and embellishments in brilliant Doodlebug fashion. Designed to make any project convenient, colorful, and fun - Doodlebug Essentials are just the essential you need.


Kit Includes:
Freedom Fireworks, American Pride, Uncle Sam, Declaration Dots double sided papers
This & That sticker sheet
Love Letters Stickers in ladybug color
fire cracker doodlepop stickers
boy o boy striped buttons
Icon sticker sheet
striped grosgrain ribbon


*Product may slightly vary from images shown.
Location: --

Size: 12"x12"
UPC: 842715043114