Cute Bird Brads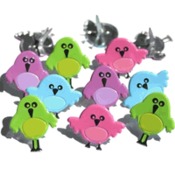 12 brads
item #:

92-00970
Reviews
Quantity
Sale Price
1

$

3.29

each
2

$

2.99

each
3 and up

$

2.79

each
---
Detailed designs make these brads more than just fasteners. Create dimension with borders, use in place of photo corners, great for attaching embellishments and fibers.

Twelve brads per package.
Add your own review
Review by

KLSJUSTME,

Verified Purchase

on 2014-09-28
Sweet little birds. Nice and flat for cards.
Review by

Carol P. on 2014-01-04
Oh...so very cute.
Review by

Shirley M.,

Verified Purchase

on 2013-12-11
Put one of these little guys on a tree limb.........so cute!
Review by

Cheryl M.,

Verified Purchase

on 2013-02-23
bigger than most brads bright and colorful perfect embellishment will set page off
Location: --

Size: 12 brads
UPC: 879693009702