Textile Color Set By Jacquard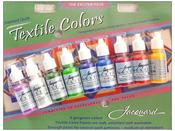 Contains Nine 1/2oz Bottles
item #:

92-02351
---
This item can only be shipped to US addresses.
These colors leave your fabric as soft as possible. They can be applied straight from the bottle with a brush, airbrush, squirt bottle or a stamp. The color is intense and semi-opaque. This product is absolutely colorfast on natural or synthetic fabrics. Colors are permanently fixed by ironing on the opposite side of the fabric.

The colors include Goldenrod, True Red, Maroon, Sky Blue, Sapphire Blue, Apple Green, Olive Green, White and Fluorescent Violet. Includes one Miniature Star Quilt pattern.
Location: N-150-001

Size: Contains Nine 1/2oz Bottles
UPC: 743772023517