Photo Glue Stick - Pioneer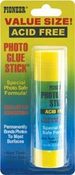 .88 oz
item #:

92-60093
Reviews
---
Special photo safe formula permanently binds photos to most surfaces. Non-toxic, child-safe, dries clear, .88 oz.
Add your own review
Review by

D827,

Verified Purchase

on 2015-04-27
Nice big size, very helpful for those photo projects.
Review by

EliseBB,

Verified Purchase

on 2014-10-11
Easy to handle. I appreciate that it is acid free.
Location: C-216-014

Size: .88 oz
UPC: 023602600935