Barn Door Distress Stain By Tim Holtz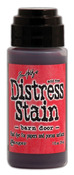 1 fl. oz.
item #:

525-03099
Reviews
---
This item can only be shipped to US or Canadian addresses.
Distress Stains are fluid water-based dyes for papers and other porous surfaces. Use for quick and easy ink coverage for backgrounds and larger areas. Mist with water to lighten color and create mottled effects. Apply layers of stain to achieve more saturated color.

The brushed nylon dabber top has a built-in spring valve. This allows for controlling the release of Distress Stains from the bottle. By pressing the dabber top down onto surface, the valve opens and fluid releases. Lift dabber away from surface to stop fluid flow. Spread Distress Stains by swiping the dabber top lightly as a brush across the surface.

Note: If Distress Stain project will be used outdoors, first seal with a weatherproof sealer.


Acid free, non-toxic

Fade-resistant dyes

Dabber top with spring valve control
Add your own review
Review by

tailsworth,

Verified Purchase

on 2016-03-02
You need ever color in the stains...
Review by

killarney_rose,

Verified Purchase

on 2014-07-30
My new favorite product to use instead of paint on Kaisercraft MDF products instead of paint!
Location: --

Size: 1 fl. oz.
UPC: 789541030997