Friend Word Wise Die - Paper Smooches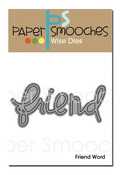 Approx. size: 3" x 1 3/8"
item #:

92-01335
Reviews
---
This item may take an extra 7 days to ship
Stand Alone die – This hand written word will look amazing on your cards and layouts. Combine sentiment stamps (sold separately) with this die to make this word stand out! Approx. size: 3" x 1 3/8".


This exclusive 100% American steel die has laser cut pin holes added to for removing the die cut with ease. This die is compatible with most die cutting machines.
Location: --

Size: Approx. size: 3" x 1 3/8"
UPC: 817357013351